Engaging the community to promote and protect our heritage.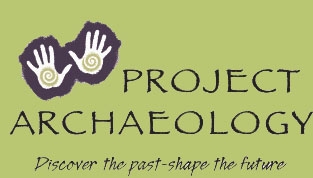 Learn first-hand how to help your students practice the basics of inquiry-based learning through crosscurricular lessons that teach archaeology and cultural understanding. Archaeology is an excellent tool for cross-curricular education. Subjects covered in the workshops will include science, mathematics, social studies, history, language arts, geography, and the arts. More information about Project Archaeology can be found at projectarchaeology.org.
Participants will receive full instruction in archaeological science for the classroom and the award-winning curriculum guide Project Archaeology: Investigating Shelter for grades 3 - 5 or Project Archaeology: Investigating Nutrition for grade 6. All K-12 educators are encouraged to apply. Many concepts within each curriculum can be taught across all grade levels. Educators employed in SC public school districts may be eligible to receive professional development credit for attending a Project Archaeology workshop. Please contact your district's coordinator for pre-approval of credit.
Workshops will take place from 8:30am - 5pm at the Parker Annex Archaeology Center. Lunch will be provided for free.
Workshop Flyer
Applications due:
Investigating Shelter – Friday, March 22, 2019 by 5pm
Investigating Nutrition – Friday, April 26, 2019 by 5pm
Email application to: SCDNR Heritage Trust archaeologist Meg Gaillard (GaillardM@dnr.sc.gov)
Are you a Boy Scout interested in earning your Archaeology Merit Badge? Are you a troop leader looking for local merit badge opportunities for your Scouts? The SCDNR Cultural Heritage Trust team of professional archaeologists hosts BSA Archaeology Merit badge programs throughout the year. Want to schedule an Archaeology Merit Badge program for your Scouts? Please contact SCDNR Heritage Trust archaeologist Meg Gaillard (GaillardM@dnr.sc.gov) with questions. For more information about the BSA Archaeology Merit Badge please view this document from the BSA.
Does your group, school or club have an interest in archaeology? Do you want to learn more about the SCDNR Heritage Trust Program? Are you planning a Science, Technology, Engineering, and Mathematics (STEM) event? What about a Science Education Enrichment Day (SEED)? SCDNR Heritage Trust archaeologists travel around South Carolina to take part in diverse educational events, give public talks, and provide guided group tours of some of SCDNR's Cultural Heritage Preserves. Contact SCDNR Heritage Trust archaeologist Meg Gaillard (GaillardM@dnr.sc.gov) to schedule SCDNR's Cultural Heritage Trust to be a part of your next event.